Here I am. This is what I do. I run.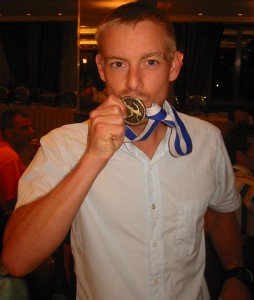 Mattias Bramstång
Born: 1975 Jönköping
Lives: Halmstad, Sweden
As long as I can remember I have been involved in some kind of sports. Running has always been a part of my past. During many years running was just a method to keep a good aerobic capacity. I didn't enjoy running then but I needed the exercise to endure 90 minutes of the game I was playing. I discovered true running when I did my military service back in 1996. I started to run for fun and within two years I was addicted. I appreciated the simplicity, the feeling of excitement during the run and the relaxed feeling afterwards. 1998 was the time when I ran my first races. In May I ran a half marathon. It made me feel strong, but it just was not enough. In September I did a 30 kilometre trail race. It made me feel unbreakable, but it just was not enough. In October I entered the start line to my first marathon. It was a great distance to cover by feet and it made me feel immortal. I realised there is no limit in running and I wanted to run even longer distances. It tempted me and I found dreams inside myself which I had to follow. I ran into the beyond of marathon and it gave me great peace that I never sensed before. There were no opponents. I couldn't lose. I won something within myself each time I ran. Running was realising and blessing.